Locations of All 8 Ancient Carvings in Genshin Impact
Wanna get yourself a killer four-star Claymore with the name of 'Snow-tombed Starsilver' in Genshin Impact? Then this guide is for you! All you have to do is find 8 ancient carvings in a new zone called Dragonspine.
But this new zone may not be the best for finding things easily, its surface is literally an enormous mountain with a lot of caves and passages. So this is where this guide catches the spotlight.
You can see the locations of these carvings in this guide, and of course the keys of the doors they open. After finding those you'll get a blueprint for the Snow-tombed Starsilver, and this guide also will show how to craft the item, we got you covered.
To begin hunting for ancient carvings you gotta interact with one. After interacting with it a door will illuminate which contains a room with the blueprint in it. When you collect all 8 carvings you'll be able to receive your blueprint.
The place is almost below the Statue of The Seven, here's a map to make sure you are in the right place.
After collecting this one, you can easily find the others by guiding yourself through with this map which has marked locations of carvings, thanks to Redditor TriNity696: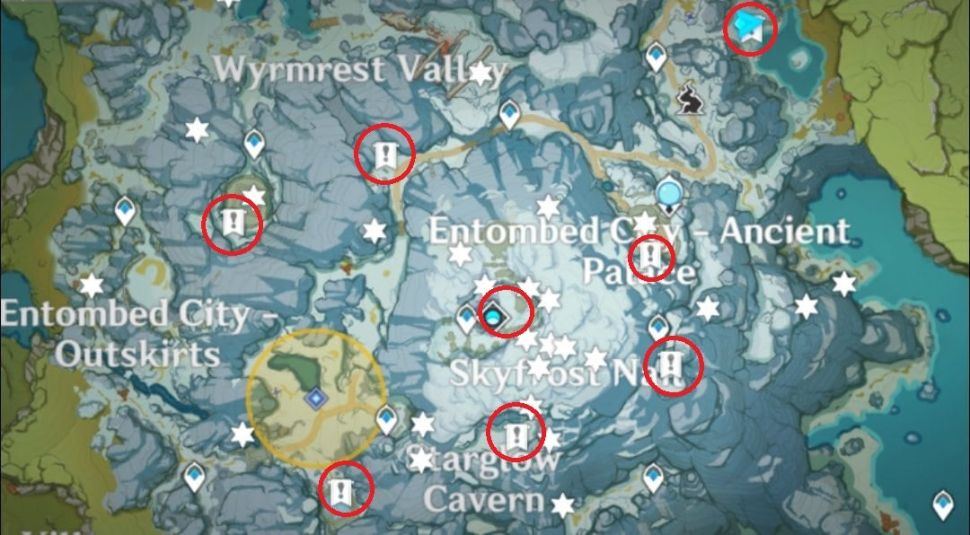 You can easily collect the carvings except one, which needs additional tasks to be completed. Hopefully, YouTuber ON Game shared a video on how to complete the tasks and retrieve your ancient carving:
Lastly, you can just watch this video published by Gamers Heroes to get ancient carvings:
Now for crafting your Starsilver, after collecting your carvings head back to the first place and go for the door below the statue. You can unlock it by interacting with the cubic shape, there will be a chest with a Memory of the Entombed City inside. Afterward, you can use the item from your Precious Items tab to learn the recipe for the prize.
You can build your Snow-tombed Starsilver with 50 Crystal Chunks and 50 Starsilver which you can get from Dragonspine. Also, you may light up all four torches in each corner of the room you got in for a second chest which has another four-star claymore in it.