Ubisoft Apologizes for "Offensive" Marketing Email for Division 2
The shutdown has been a very sensitive topic in America since December because hundreds of thousands of federal employees were unable to get their paychecks even in Christmas time because President Trump and the Congress were unable to agree on a bill to fund "the border wall".
The shutdown caused many Federal institutions such as prisons, FBI and the Coast Guard to face a lot of challenges. Although the waters seem to be quite at the moment, the issue is not resolved.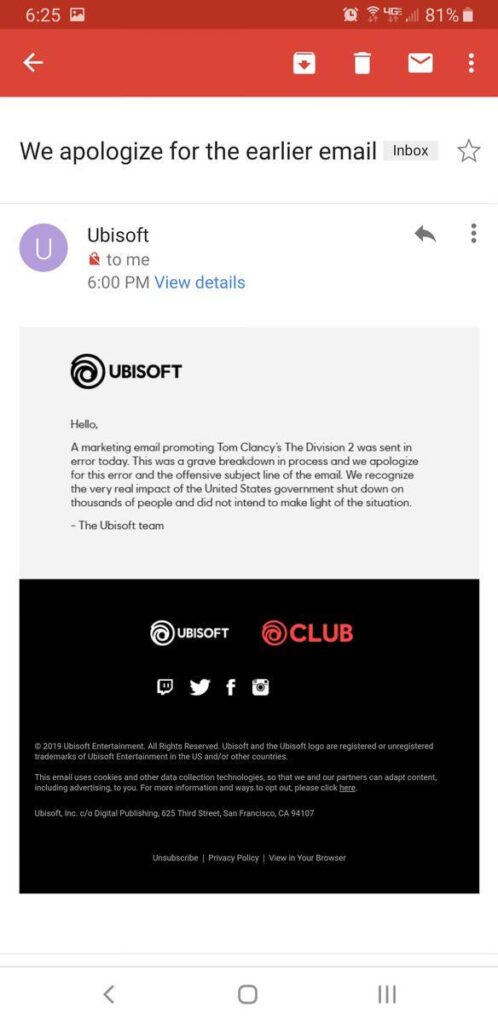 Only about an hour after the email for Division 2 was sent, Ubisoft published an apology:
"A marketing email promoting Tom Clancy's The Division 2 was sent in error today," it read. "This was a grave breakdown in process and we apologise for this error and the offensive subject line of the email. We recognise the very real impact of the United States government shutdown on thousands of people and did not intend to make light of the situation."
The Division 2 arrives 15th March on PC, PS4 and Xbox One. The beta will run 7th Feb to 11th Feb in the UK, and you can either sign-up on The Division 2 website for a chance at joining in, or pre-order the game.