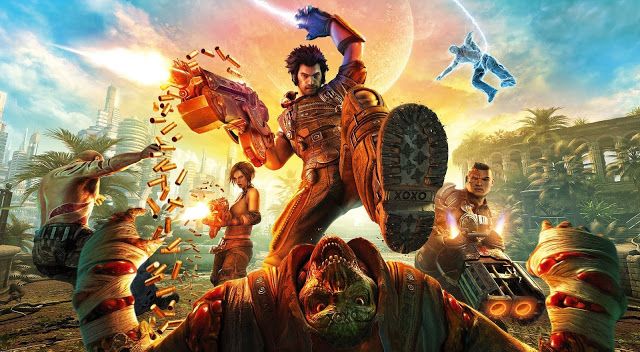 The original Bulletstorm came in 2011 and came with a kick against the modern FPSs (you know, kicking was a fundamental element of gameplay, along with the excessive whipping). It was both old and new: "Old" in bringing back the fun into FPS gameplay, "new" in using non-revolutionary-but-neat gameplay mechanics such as using enviromental elements to make chain kill combos, using dinosaur robots, kicking (okay, that is not necessarily new), and whipping. They even made an advertorial video to mock Call of Duty and other dramatic new-era FPSs. Please watch it, it is hilarious:

Heh, that was quite hysterical. As you've probably realised by now, I am a great fan of Bulletstorm. And I think I have all the rights to be one, because it was -except its scenario and some dialogues- a rock-solid FPS.
Anyway, from what we heard, Brazilian Rating Board leaked information about a "Bulletstorm: Full Clip Edition", which will, according to the rating, be published in 2017 by Gearbox Software. As the game was made by Unreal Engine 3, it is highly probable that this version will be an Unreal Engine 4 release. People Can Fly, the original developer, refuses to make a statement. It is leaked that the game will be out for PC, PS4 and Xbox One.
We cannot wait to kick some enemies into oblivion.
(Source: Middle of Nowhere Gaming)