Antigraviator is a fast-paced anti-gravity racing game developed by Cybernetic Walrus and published by Iceberg Interactive. The game is now available on Steam and thus, I am lucky enough to lay my hands and eyes on this title, and share my first impressions with you.
The game promises a new point of view to anti-gravity racing genre with breathtaking visuals and the joy of extremely fact-paced racing. It is so extremely fast-paced that you sometimes wonder what is really going on on the screen.
You start the game with a shinny cool vehicle which is named Grav. Since it is now 2210, racing means something different. While scientific progress pushed everything ahead with it, it also made the anti-gravity racing possible. In this advanced world, someone is probably building a futuristic war machine which could really fit in a FPS game or someone is trapped in a space station which again could really fit in a sci-fi exploration game. I can not help but think that I am in one of these worlds, but me and my snob friends just here to have fun.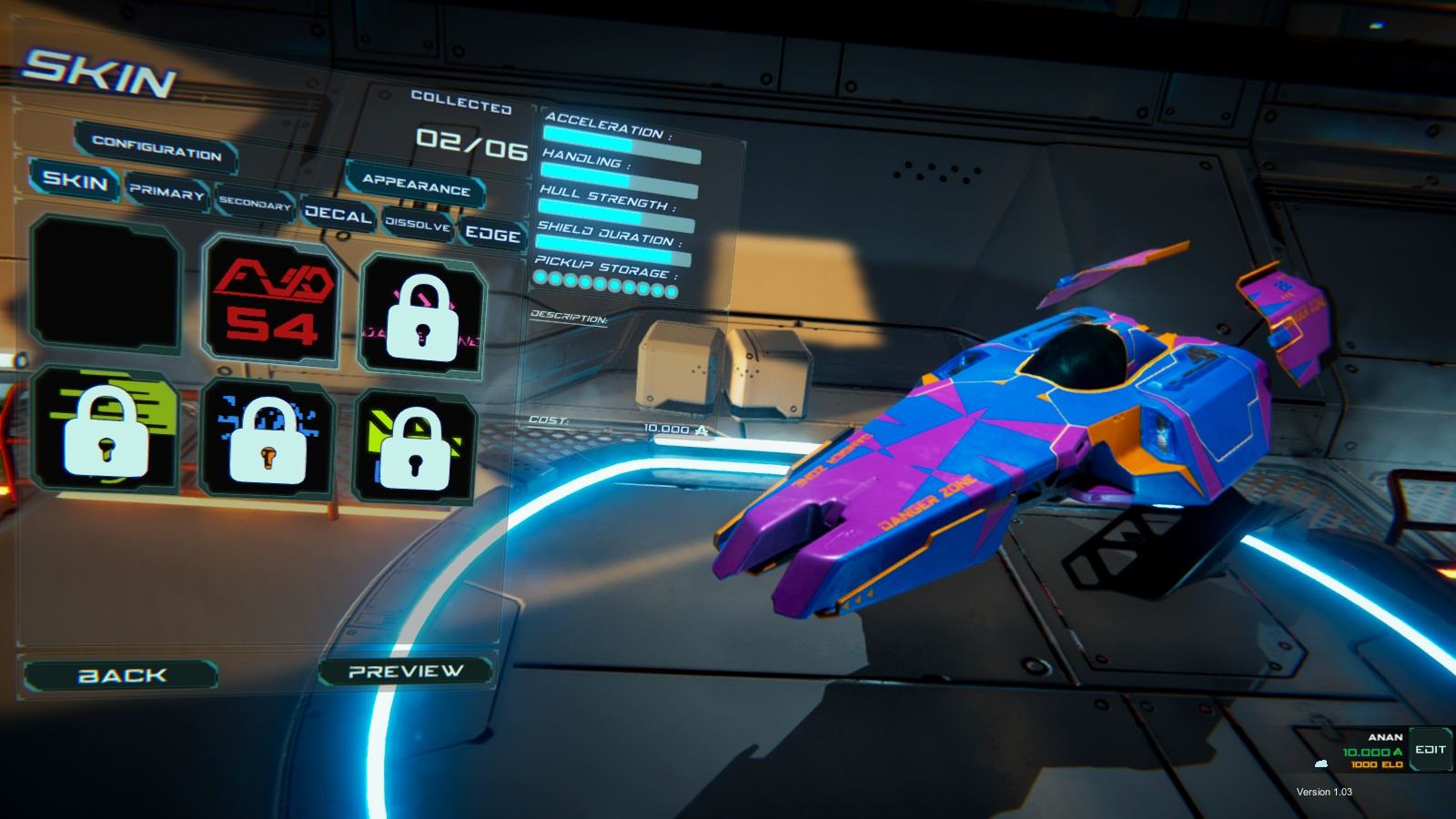 Gravs can be upgraded in the hangar and again can be changed in here if you have enough money to buy another one. After you choose one of these vehicles, the mayhem begins. The game offers three gameplay modes across five different worlds with three tracks each. You'd better take a look at these maps at the beginning of the race, or else you will not have chance. After the race starts, everything is just topsyturvy and color after color. It is like you are having a seizure, but an enjoyable and colorful one.
Antigraviator made me smile with one feature which works mostly like one of Splint Second's. During the race, you can activate traps in order to slow down other racers. When there is a warning, you just need to push the button and you can create mayhem. You can collapse tunnels and even fire rocket launchers. You are lucky if you see one of those since you will only see an orange line on the screen. But, does it work? Well, not much. I was waiting for the satisfaction of a great detonation and car wrecks, but the game does not give that.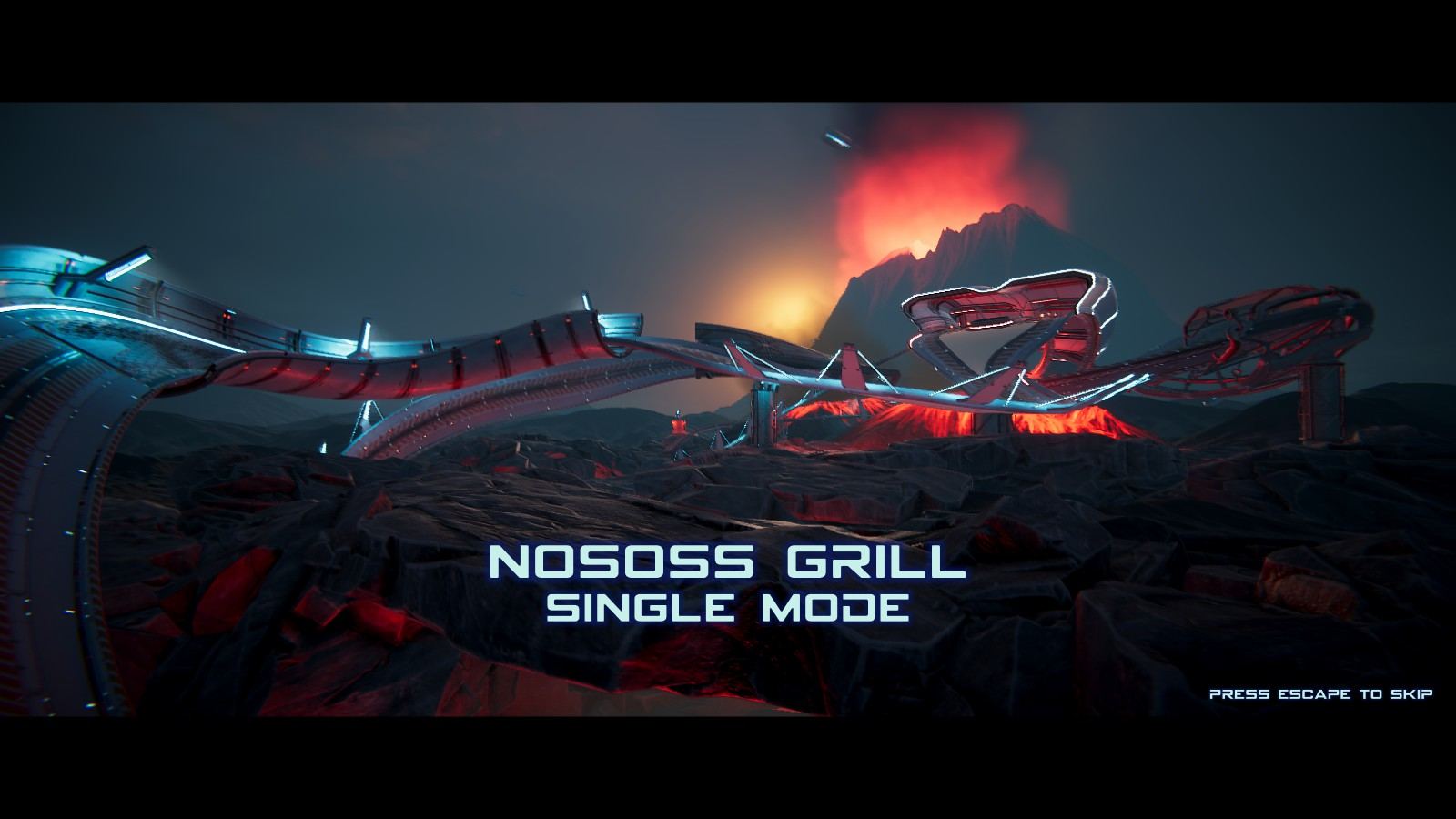 When it comes to the control mechanism of the game, I can say that it is simple. Go left, go right, use the brakes, roll left, roll right and activate the trap. Other than that, you just need to stay one the track, but it is not an easy task since it is just so fast. Like it is not fast enough, boosting is there to make it better.
But again, like in every racing game, there is nothing else to do except staying on the road and not to hit anything. The charming thing is that there is no speed limit. This means that if you do not ruin it and use the accelerators, there is nothing to hold you back. At this point, the screen is all blur and everything is out of control. The game is out of control and you just push the buttons and hope it is working.
The thing is that when the only thing there is for me to control this vehicle, it is a little frustrating that I am not able to. You are trying to take a small turn. Well, no. It fells like the only thing you can do is to get faster and faster to take the turn. Even though it is electrifying, I don't like the feeling that the game is getting out of my control every minute I play.
I enjoyed the soundtrack and I extremely enjoyed the visuals of Antigraviator when I was able to see it, but the extreme motion blur is, well, extreme. It is even weary to take a decent screenshot while you are trying to understand what are you looking at. Maybe with better controls and a little bit less motion blur, I would enjoy Antigraviator more, but like I've mentioned before, I don't like to see that I am not in control where I should be. Antigraviator's speed is something you need to handle, not control.
Even though there are bits and pieces I dislike, I enjoyed Antigraviator very much since it is basically an adrenaline shot which gets out of control after some time. This game needs a controller to be enjoyable and I highly recommend you to stay away from your keyboard if you want to have a pleasant experience with Antigraviator.
The game is now available on Steam and if you want to take a look at it, you can visit here.
Antigraviator was reviewed using a Steam key provided by the publisher.
Even though there are bits and pieces I dislike, I enjoyed Antigraviator very much since it is basically an adrenaline shot which gets out of control after some time.
Positive
Variety of modes and maps

Impressive soundtrack

Dashing visuals

The untamed feeling
Negative
Too much motion blur

Controls may get out of hand

Traps do not work like they should