Black Mirror is a point-and-click style adventure game which was initially released in 2003 and it is recreated in 2017. This new version is a reworked game which follows the foot steps of its ancestors. As one of the best Gothic-horror adventure games of the past, the Black Mirror triology was probably also one of the most underrated games. But today, thanks to KING Art and THQ Nordic, we have the privilege to play the recreated version of this jewel. Also, as a huge fan of adventure games in general, I would like to say that I am happy to present this game to you.
As usual, we will focus on five main aspects of the game: the story, gameplay, graphics, sounds and the performance. So without further ado, let's begin.
Story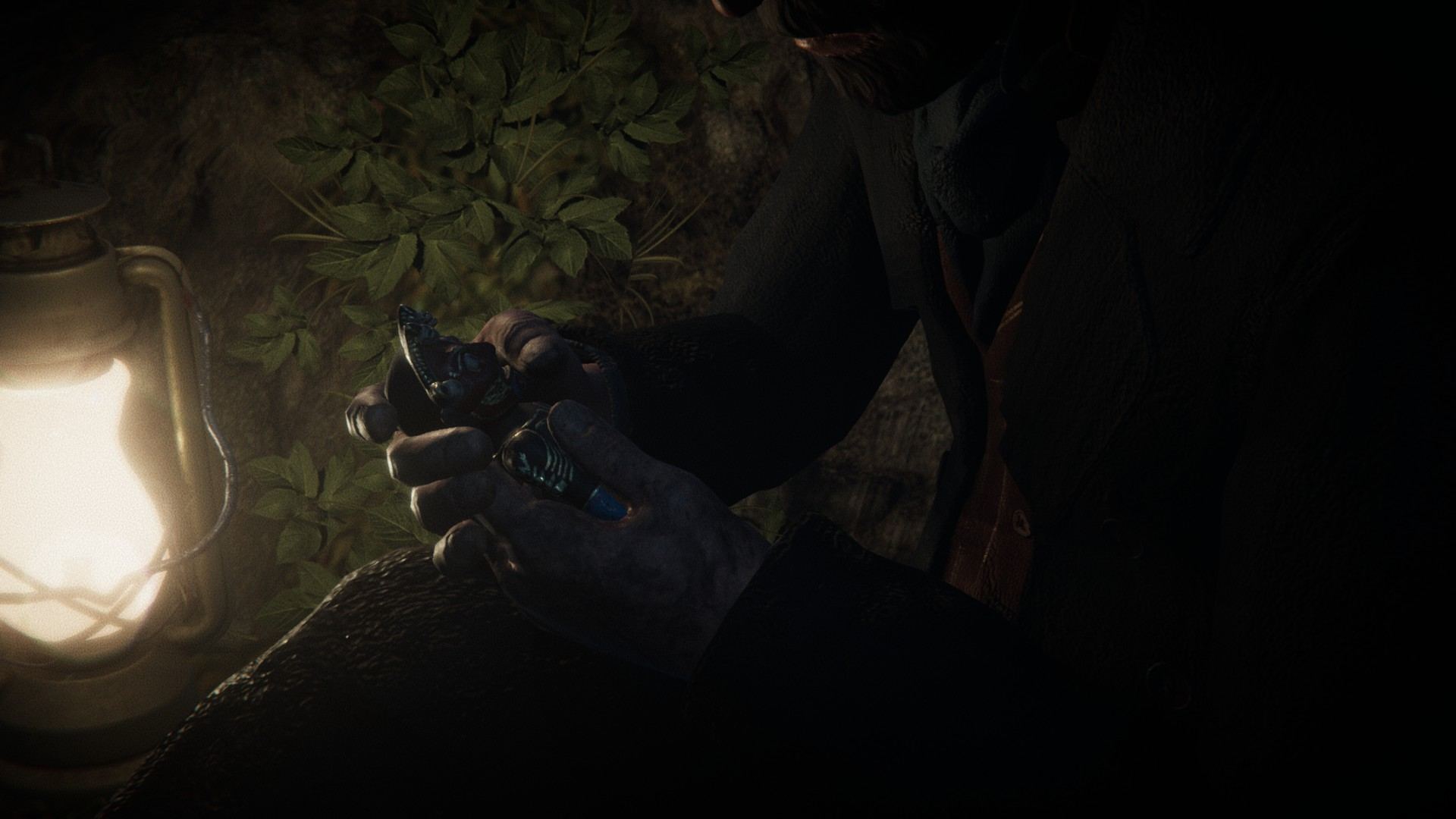 The story rolls around the Gordon family. This family is an aristocratic Scottish family which is supposed to be the subject of a curse. The game starts with an interesting introduction where you play as the father of David Gordon, who is the protagonist of the game. As one can expect, thisintroduction doesn't do anything other than leaving you with many questions. As you start playing with the main character, you will find yourself in Sgathan Dubh, the huge mansion of Gordon family which is also left to David by his father. The main story revolves around solving the mysterious death of your father. By talking to the household and the staff who are working in this mansion, you will try to uncover the curse, and thus, the reason of death of your father.
At first, this story might be a little cliché for many adventure game players. But when you combine it with the level design and the Gothic atmosphere of the mansion, you will see that it suits pretty well with the essence of the game. Little twists and surprising events will make you shiver and/or get more excited about your next step, believe me in this one.
As you progress in the game, you will uncover the main story and meet with many interesting characters. And to be honest, as a story-driven adventure game, Black Mirror succeeds in taking you into the story. (Here comes the but!) But, as soon as you get involved in the story, you will realize that even though the game is successful in keeping your attention, a couple of poorly designed puzzles and controls make it kind of hard to keep the excitement alive.
Gameplay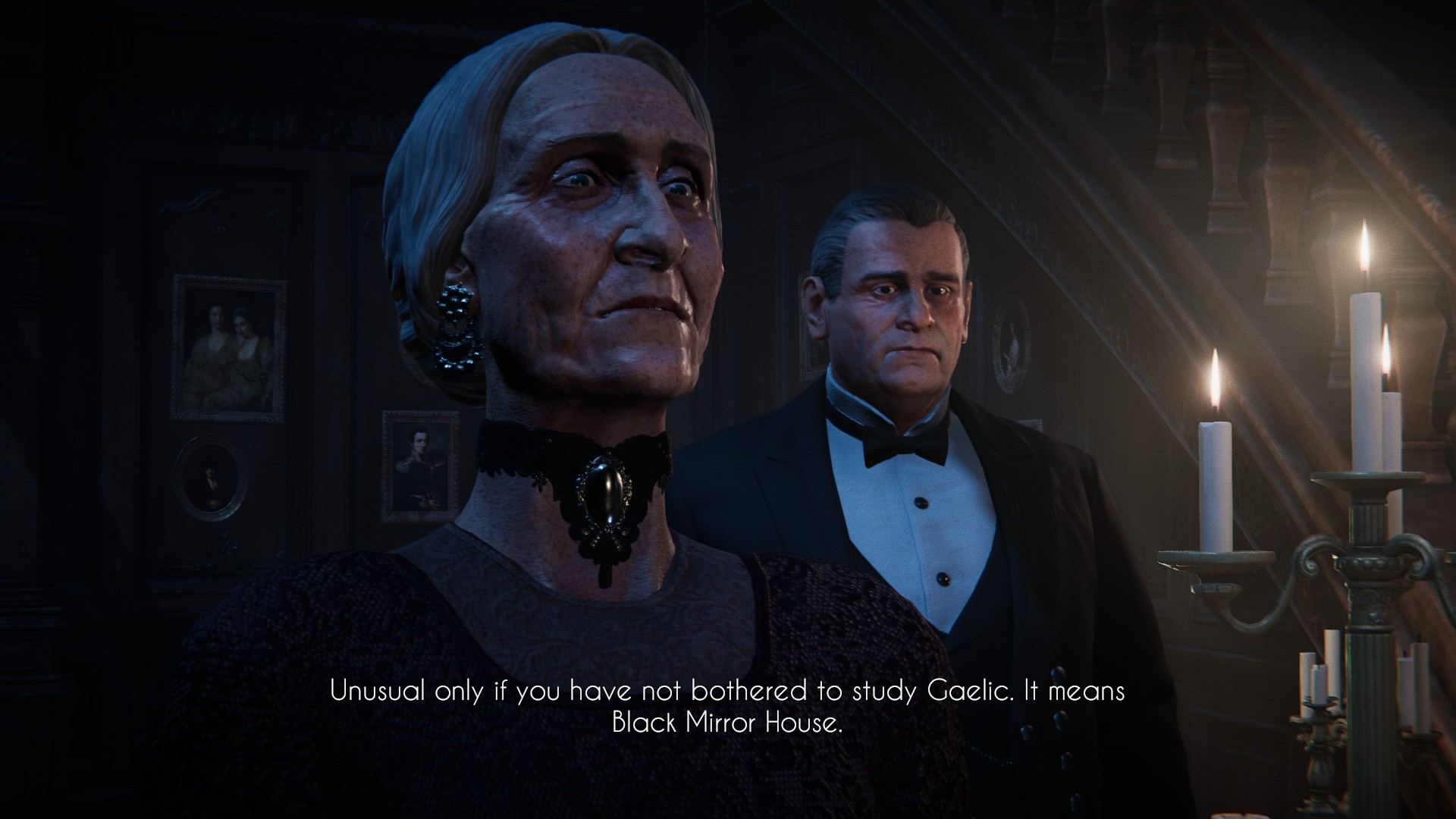 When you realize that you're playing a good story with good story telling, you start expecting more from the game. The first problem you will encounter will be the controls (for PC users without a gamepad). The fixed camera mechanic ruins a big part of the game. Especially when you need to find a crucial item or place. Using the WASD keys to move around is one thing, it is normal. But using them to focus on the points of interests can be frustrating sometimes. I have mentioned that the level designing was beautiful in this game. So, in order to appreciate this, you will have to use your mouse to move the care around. And I cannot say that they did a good job about that mechanic because it can get pretty annoying quickly.
Other than this, controls are not that easy to be honest. To be able to solve puzzles, explore areas, examine items etc you will have to be patient. So, without spoiling anything, if you encounter with a puzzle, no matter which one, use your WASD keys first to see if there is something else you cannot see at first glance. This will save you from spending hours on one simple puzzle (this is experience talking, unfortunately).
The inventory system and the quest log feels unnecessary as you do not get too many items. But, I can also say that I liked the idea of manipulating the items you get to be able to solve a couple of puzzles. And let's talk about the puzzles a little. They are not challenging, unfortunately. But they are not like the ones in Skyrim either. So, it is in the middle. If you are a huge fan of adventure games, you might get bored with the puzzles quickly.
Graphics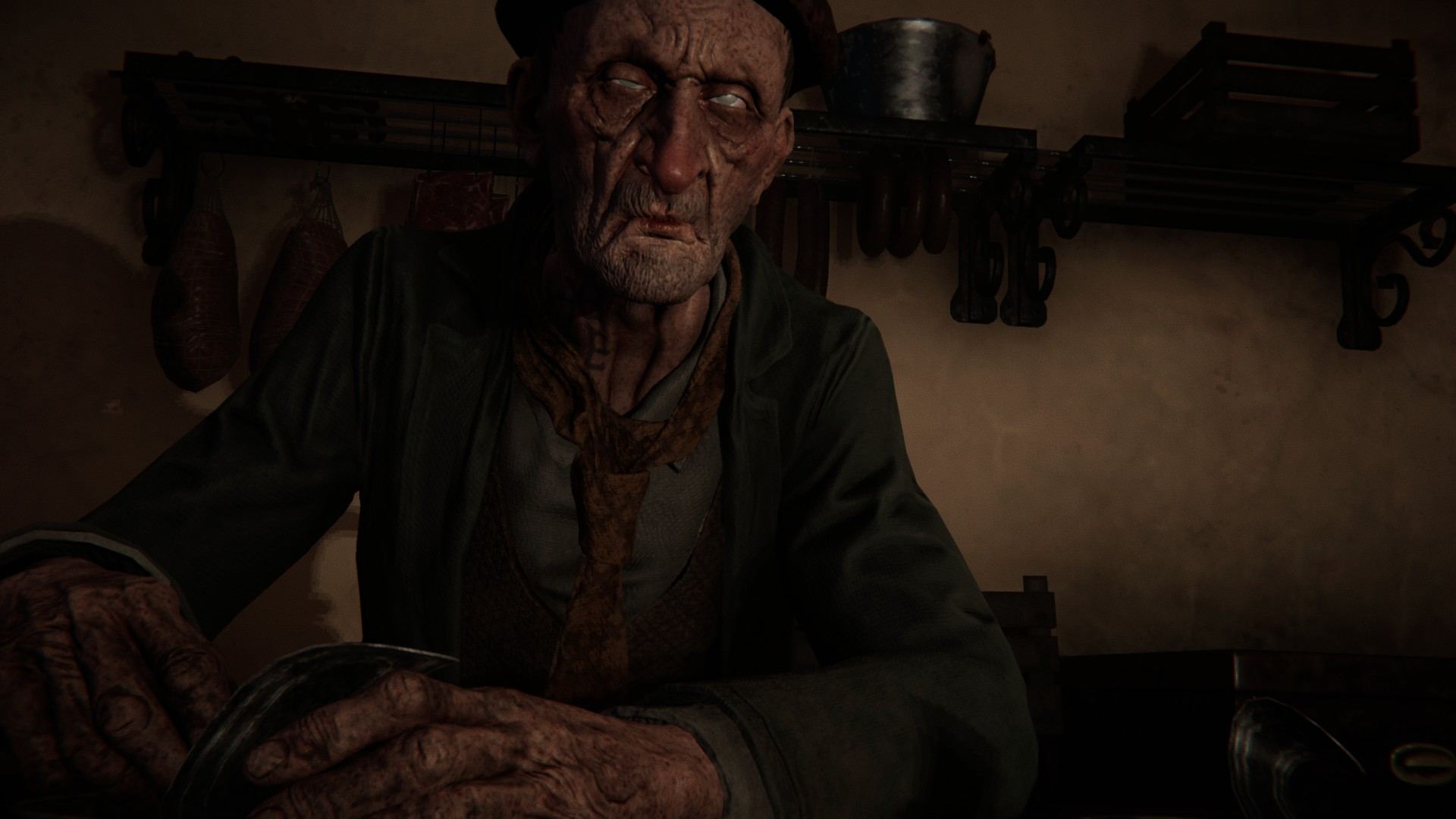 Here comes the hard part of this review. At first glance, one can judge that the graphics of this game is pretty good. That's what I did and that's what I still think. They are pretty good. Are they good enough to be considered as high-end graphics? Absolutely no. Are they bad enough to be considered as bad? Absolutely no. But there is one thing that I am certain of. They could have been much better than this. Especially if you consider the system requirements (on which will talk about in the performance section), it is disappointing to see the lip movements and the textures. Faces of the characters are somewhat emotionless and they fail to reflect the importance of the moment. You cannot feel that your character is scared when he says that he is scared. But, you get scared or shocked, and that's a plus.
Anyways, other than the textures, I can easily say that the lighting and the shadows are pretty damn good in this game. They support the atmosphere in such a way that you get the feeling of living in a Gothic style mansion. Even the ceilings are pretty well designed. I personally would like to congratulate the artists who created the levels.
Overall, the visuals are pretty good. Textures and the animations could be better. But the level design is unquestionably well drawn. And when you mix these visuals with the sounds of the game, the taste you feel gets better and better.
Sounds/Dialogues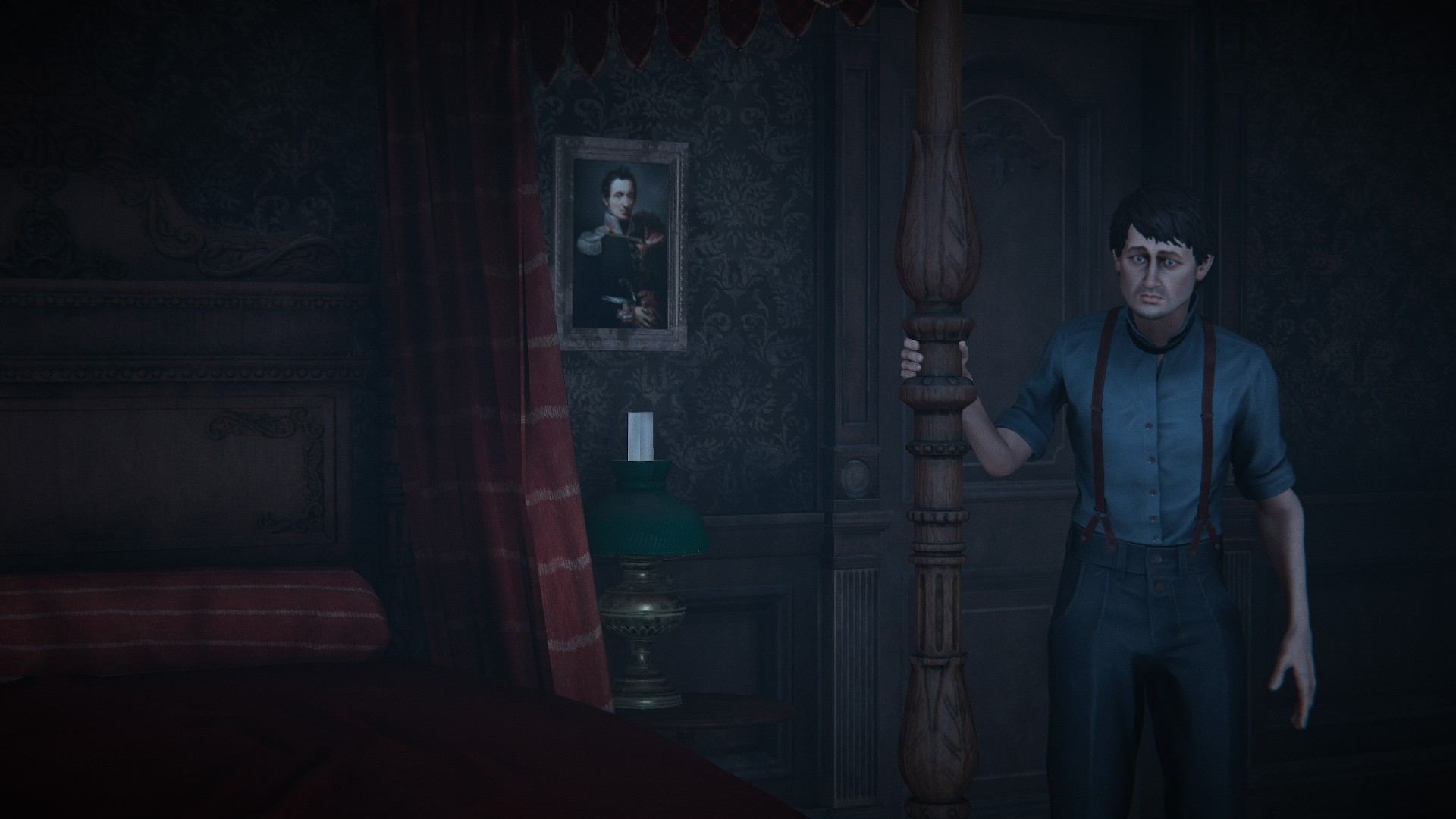 Here we go, the best part about this game. Sounds. Boy, I cannot express the feeling you get even if you don't do anything at all. The atmosphere music, the sound effects feel so real that most of the time you get the feeling that it's YOU who is walking on the creaking stairs. And if you pay attention, you can realize that the sounds reflect even the smallest details. I was shocked to hear the plate and fork sounds after I finished having my breakfast in the game for example. Just keep your ears open and listen to the every single sound you can hear. You will understand what I'm saying.
When it comes to the voice acting, I can say the same. Most of the time it is really good. At this point, I think it would be better for me to tell you that the dialogues are also well designed. But, the main problem I had about the dialogues is the fact that they don't let you fail or chose to do something. Your inner voice warns you about not doing something and you cannot get to try to do it. For instance, if you want to give an item to an NPC, David suddenly says that he shouldn't do it and you don't do it. Maybe a fail mechanic would be better. Or if you had the chance to give an item to the wrong person, maybe you could get a different outcome from it. That would make me feel more free and more responsible for my actions.
Performance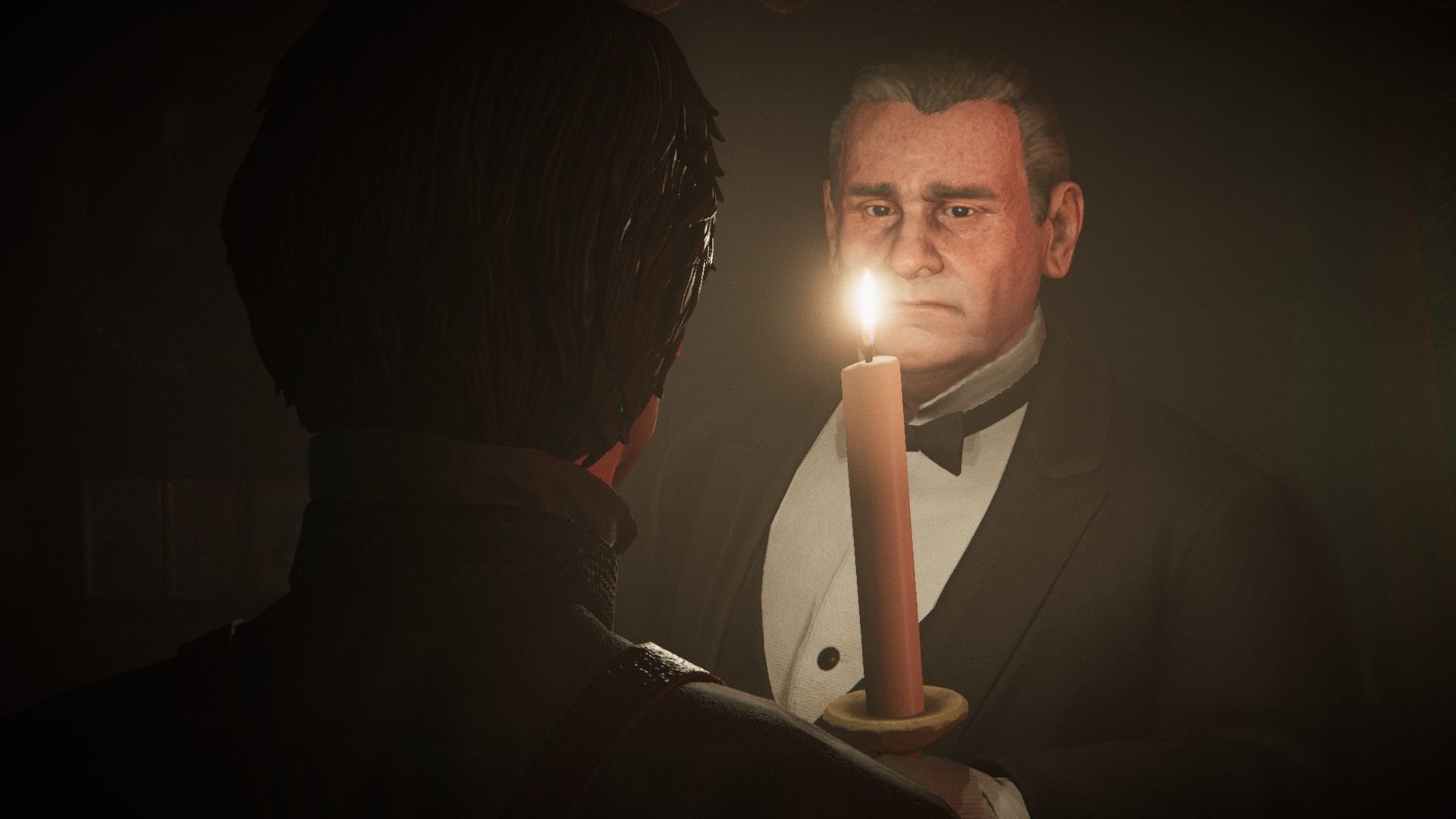 Here is the worst part about this game. Let me start with showing you the system requirements of the game:
MINIMUM:
OS: Window 7, 8, 8.1, 10 (64bit)
Processor: Intel Q9650 / AMD Phenom II X4 940
Memory: 8 GB RAM
Graphics: GeForce GTX660 / Radeon 7870 – 2GB VRAM
DirectX: Version 11
Storage: 11 GB available space
RECOMMENDED:
OS: Window 7, 8, 8.1, 10 (64bit)
Processor: Intel Core i7 3770 3,9 Ghz / AMD FX-8350 4 GHz
Memory: 8 GB RAM
Graphics: GeForce GTX960 / Radeon R9 290 – 4GB VRAM
DirectX: Version 11
Storage: 11 GB available space
The system requirements are not crazy, that's for sure. Overall, the game requires 8GM of RAM with a decent (or a good) graphics card. And you will need a good processor too. This is not the problem. The problem is, the game doesn't offer a game which is worthy of this hardware. I don't mean that the game is not 'good enough for this hardware'.
Other than the performance, I can easily say that the game needs an update pretty soon. I have encountered a couple of game breaking bugs and glitches. And the game crashed for no reason a couple of times.
What I'm trying to say is that you expect more from a game which expects essentially 'more' from your PC. Maybe they will do something and optimize it in the future.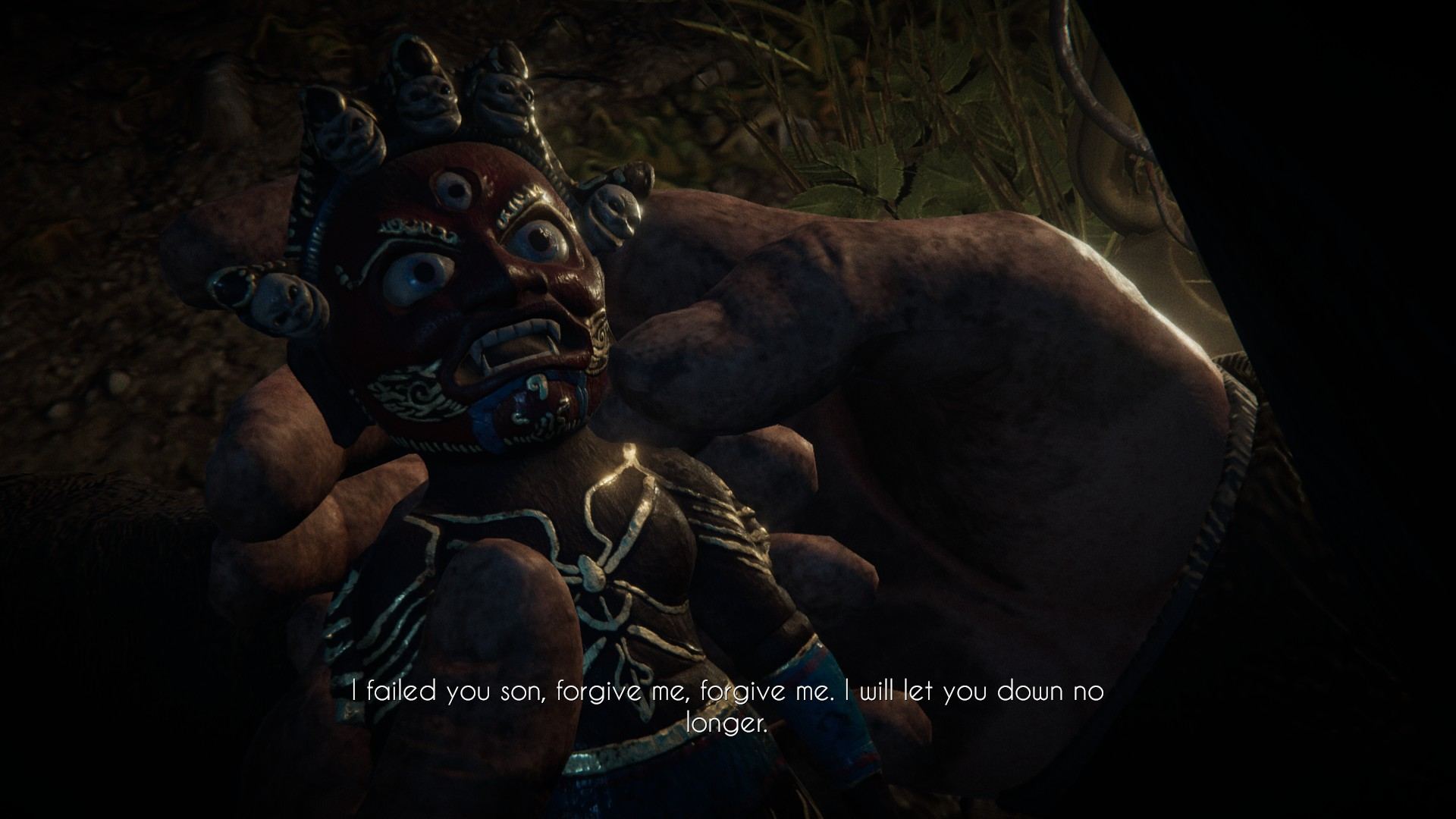 You can go ahead and buy the game on Steam and delve into this Gothic adventure.
Black Mirror was reviewed using the Steam key provided by the publisher.
Black Mirror offers a unique experience in a Gothic atmosphere with good graphics and good sound effects. It succeeds in taking you and putting you in a story and let you play as if you were a protagonist of a book. With the sound effects which will make the atmosphere more impactful, this game becomes a jewel. However, when it comes to the somewhat clunky camera movement, and a couple of basic gameplay problems, the game fails to keep the excitement alive. If you are an adventure game fan, you should absolutely try this game.
Positive
Great atmosphere

Good graphics

Good sound effects

Somewhat challenging puzzles

An interesting and exciting story
Negative
Weird character animations

Emotionless face expressions

A couple of bugs and glitches

Cluncky gameplay

It might take a while before you can fully appreciate the story

Doesn't feel like you have a choice in dialogues