"What will you become?"
Conan Exiles, the upcoming survival game of all survival games (hopefully) has a new trailer, a "Barbarian Edition" and a release date for Steam Early Access.
The trailer picks up from where the first "Reveal" trailer left. We the slaves, will bring barbarism to the real barbarians; in a barbaric world. Let's listen to the Machine Head's Blood, Sweat and Tears while watching this brutal trailer, shall we?
Gotta love the plot twists.
By the announcement of this trailer, we also learned that some economically gifted friends will get their hands on a "Barbarian Edition". This special edition will cost $60, and will include:
Custom Conan Exiles digital comic book
Exclusive Conan Exiles t-shirt
Six digital Conan the Avenger comic books from Dark Horse Comics
368 page, full-color, digital Conan Pen & Paper RPG Core Book from the hugely
successful Kickstarter by Modiphius
"The Coming of Conan" eBook, 496 pages with illustrations and original Conan stories
The award-winning soundtracks from Age of Conan and Rise of the Godslayer, plus
the brand new Conan Exiles soundtracks
In-game items for the Age of Conan MMO including a Savage Rhino mount
"The Art of Conan Exiles" digital artbook
And more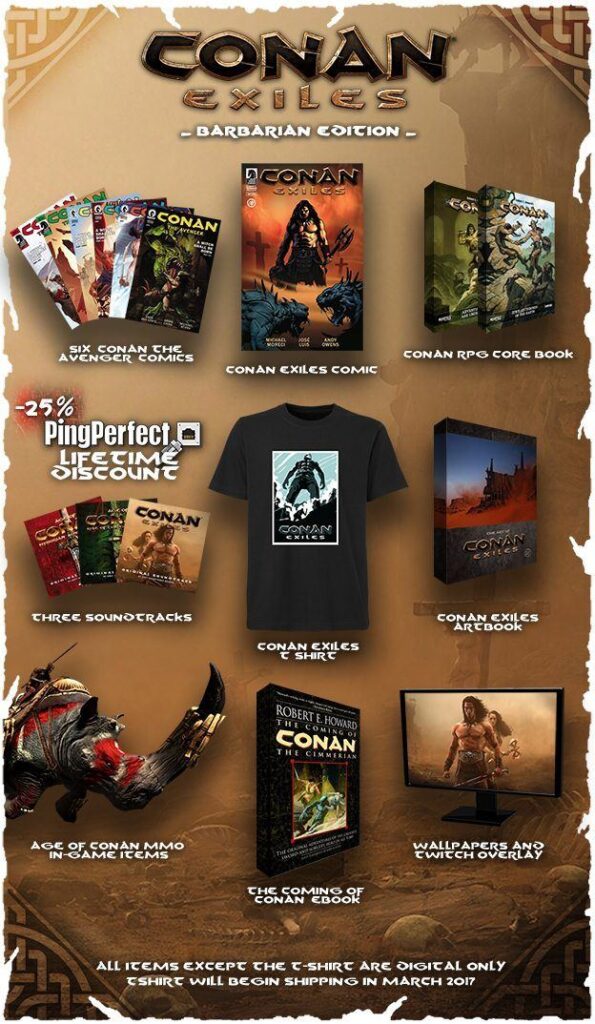 And finally, the Steam Early Access date: Conan Exiles will be availeble for early access on January 30th. Prepare your axes, spears and swords; may Conan will guide us through the storms that whip!