Such a Black Tuesday it is.
Yes! Yes! It is this time of the year again. Why spend your holiday with your friends and family instead of playing games all night, alone?
Here are some of the deals gathered from Steam, GOG, Humble Store etc. Suit yourselves, paint it black.
STEAM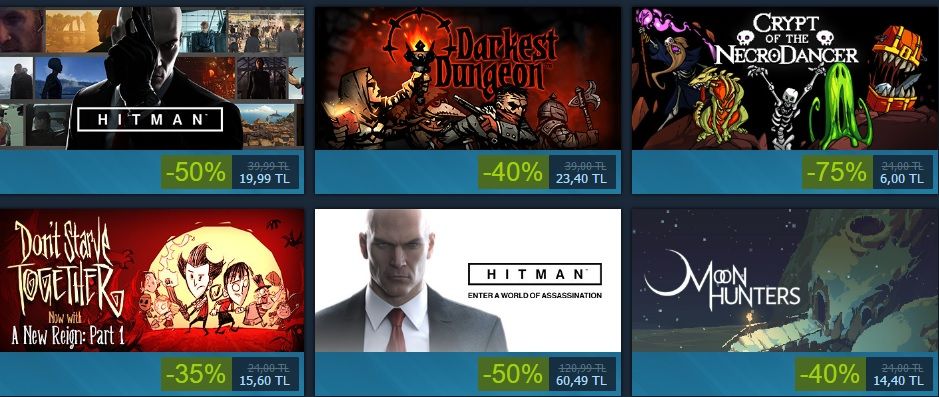 On Steam, Quantum Break is $30 with 25% off and Armello is $14 with 30% off. But that's not it. You can purchase Hitman, Don't Starve Together, Darkest Dungeon, Moon Hunters, The Elder Scrolls Online, Crypt of the Necrodancer, How to Survive 2, Mark of the Ninja, Invisible Inc. and Deponia on discount too for a limited time.
GOG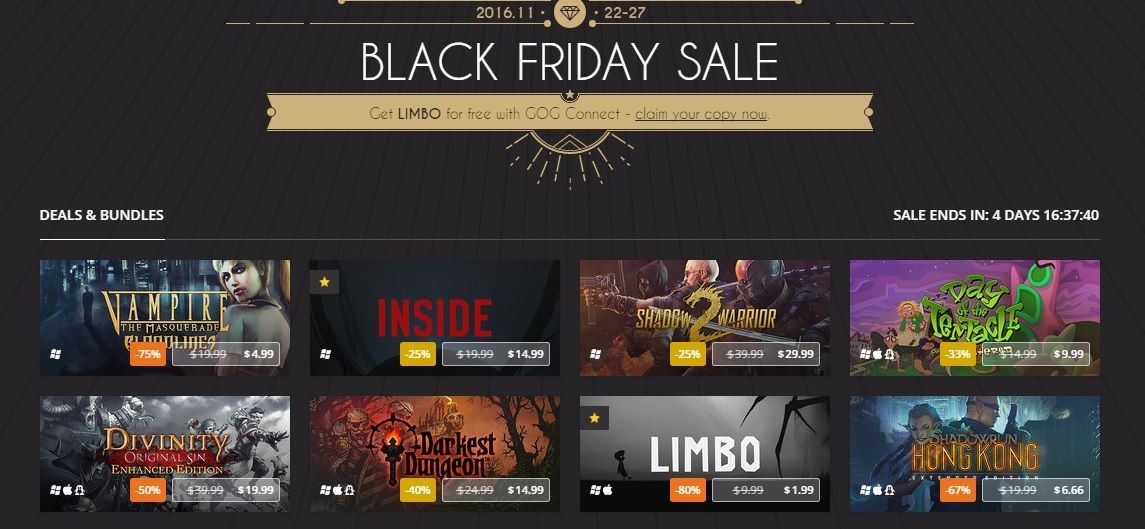 GOG takes Black Friday more seriously, I say. Great bundles and offers are waiting for you on GOG. Grim Dawn is $14.99 with 40% off, Vampire: The Masquerade – Bloodlines is $4.99 with 75% off, INSIDE is $14.99 with 25% off, Limbo is $1.99 with 80% off and more. Also, you can build your own bundle for Wadjet Eye (Primordia, Blackwell Epiphany, Shardlight etc.), Retroism (Falcon Collection, Darklands, Redline etc.) and purchase GSC Game World (S.T.A.L.K.E.R. series, Firestarter etc.) and Frozenbyte (Trine series, Shadwen) bundles with 75% off.
HUMBLE STORE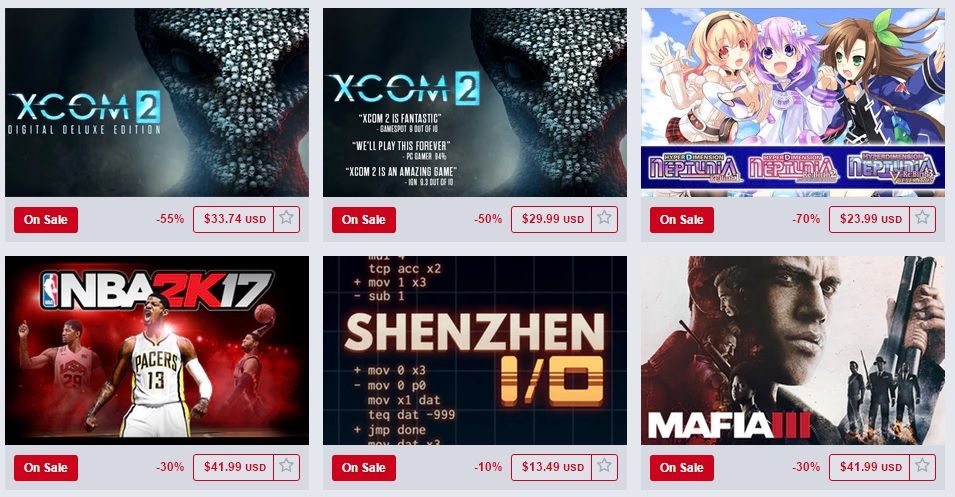 On Humble Store XCOM 2 is $29.99 with 50% off, Mafia III is 4 $41.99 with 30% off, Battleborn Digital Deluxe is $22.49 with 70% off, Head Lander is $11.99 with 40% off, We Are The Dwarves is $4.47 with 81% off and the list goes on.
BUNDLE STARS

BundleStars is offering Batman: Arkham Knight Bundle for $14.99 with 70% off. Also, Shadow of Mordor Bundle is $6.99 with 65% off, Mad Max is $7.49 with 75% off, Mortal Kombat X is $4.99 with 75% off, FEAR Bundle is $4.99 with 91% off, The Secret World Ultimate Edition is $17.99 with 70% off and so it goes.
GREEN MAN GAMING

Green Man Gaming is offering great deals too. Deus Ex: Mankind Divided is $62.98 with 30% off, Tomb Raider Game of the Year Edition is $11.99 with 60% off, Valve Complete Pack is $24.99 with 75% off, Mafia III is $33.74 with 55%off, Battleborn is $19.79 with 67% off and many more is waiting for you.
ORIGIN

Origin is offering Battlefield 1 for € 39.99 with 33% off, Titanfall 2 is € 39.99 with 33% off, Star Wars Battlefront is € 14.99 with 50% off, Tom Clancy's The Division is € 34.99 with 30% off, Unravel is € 9.99 with 50% off and there are great SIMS deals if you are interested.
Along with that, you can find great deals on Amazon, GamersGate, Microsoft Store and Kinguin.
Stay tuned for more!