Call of Duty: WW2 – St. Patrick's Day Event is now live and free
Call of Duty: WW2 is now offering us to enjoy St. Patrick's Day Event for free with lots of updates and new loots.
Shamrock & Awe Event will end on April 3 and will be free for all players to enjoy. This event adds St. Patrick's Day-themed gear to the game such as the M-38 Submachine Gun and the MG 81 Light Machine Gun.
Leprechaun Hunt Moshpit takes traditional Team Deathmatch, Hardpoint, Kill Confirmed and Domination modes and adds a small twist – a scurrying leprechaun hiding around the map. Players who manage to eliminate this mischievous little sprite are rewarded with the Scorestreaks they have equipped, providing a quick way to change the game. This mode will be available as a Featured Public Match playlist during the event, and it will sport 2XP from March 16 at 10am Pacific until March 19 at 10am Pacific to help you level up.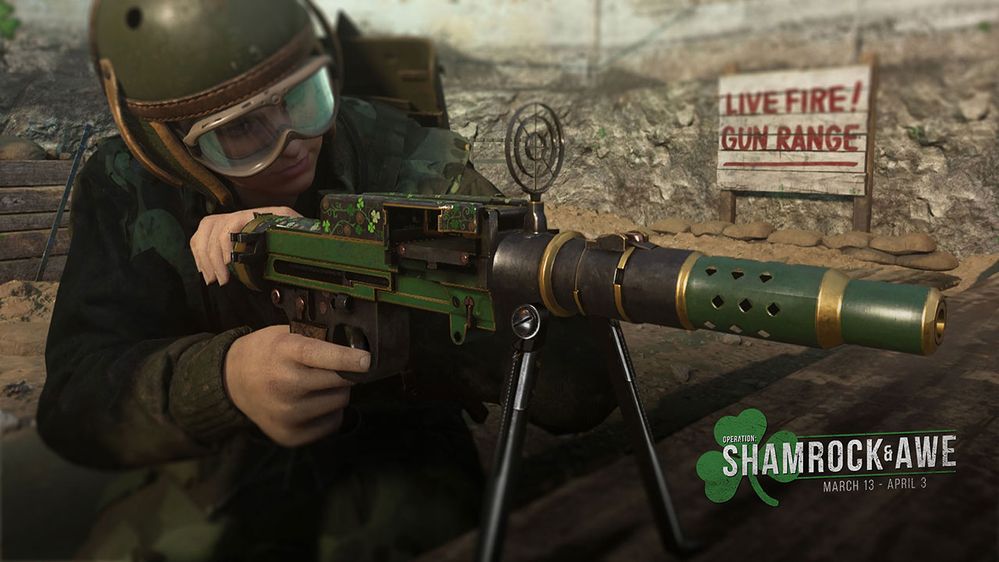 Multiplayer won't be the only Call of Duty: WWII game mode to celebrate Shamrock & Awe, as Drostan and his Nazi Zombies crew are ready to drive the undead out of The Final Reich, Groestan House and The Darkest Shore.
The Nazi Zombies in-game lobby will be decorated for Shamrock & Awe, and there are some surprises for players who have keen eyes and know their way around each Nazi Zombies chapter.
Also, you'll find loads of gear beyond the St. Patrick's Day greenery, including new items like weapon charms, along with a slew of new weapon variants, weapon camos, weapon reticles, uniforms, helmets, permanent collections, and more.
Shipment 1944 is also something new which is a fast-paced, explosive experience with nowhere to hide, and as a tip you might consider enlisting in the Armored Division or using the Hunker Basic Training before you drop into a match. Shipment 1944 will debut for Season Pass owners, who will have early access first on March 13, and all players will be able to play the map for free starting on March 16. Plus, it will be still playable after the Shamrock & Awe festivities are over.
Captain Butcher will have two time-limited St. Patrick's Day collections that will vanish at the end of the event, so be sure to visit him often and kit out your collections. You can find Orders and Contracts throughout Shamrock & Awe that will yield Supply Drops and even weapons. So, make sure you check back with both Captain Butcher and Major Howard often to see what's on tap.
Stay tuned!