2017 Game Awards – Vote for your favorites
The 2017 Game Awards nominees finally have been revealed and the struggle is real since there are more than one or even two great titles under each category. The console and PC games both take place under these categories.
Some are brand new, some are not finished yet, some are exclusive yet we embrace them all and vote for our favorites. Let's take a look:
Game of the Year category includes The Legend of Zelda: Breath of the Wild, Super Mario Odyssey, PlayerUnknown's Battlegrounds, Persona 5, Horizon Zero Dawn. My vote goes for Horizon Zero Dawn even if I know that BUBG will probably win.
Hellblade: Senua's Sacrifice has been nominated for 5 Game Awards as Best Narrative, Best Audio Design, Games for Impact, Best Independent Game, Best Performance for Senua actress Melina Juergens and I believe if you've played the game, you will choose Best Audio Design and Best Narrative for sure.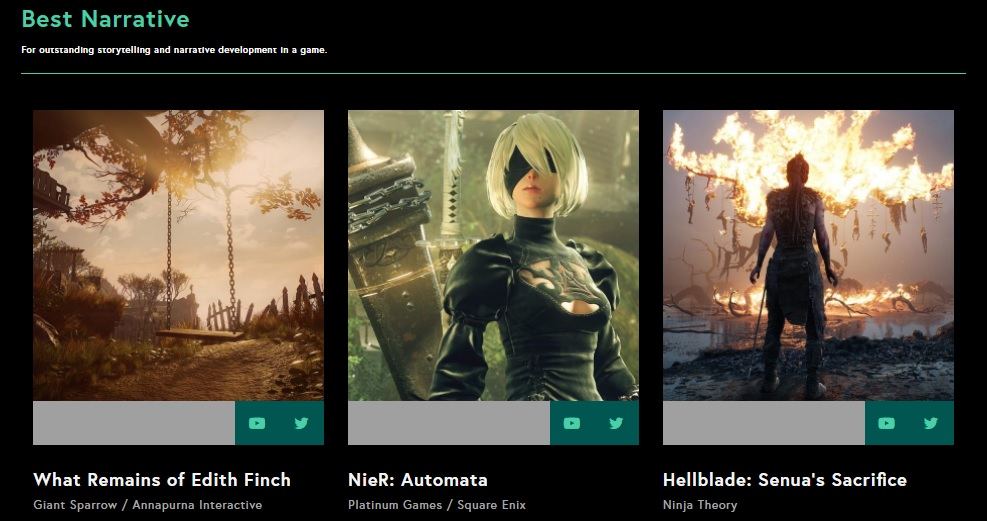 Super Mario Odyssey has been nominated for 6 Game Awards which are Game of the Year, Best Game Direction, Best Score/Music, Best Audio Design, Best Action/Adventure Game and Best Family Game.
Cuphead also has been nominated for 5 Game Awards which are Best Art Direction, Best Score/Music, Best Action Game, Best Independent Game and Best Debut Indie Game, presented by Schick Hydro (yes, this is also a category).
Wolfenstein II has been nominated for 4 Game Awards which are Best Game Direction, Best Narrative, Best Performance for BJ Blazkowicz actor Brian Bloom and Best Action Game.
We can only mention some, but there are more categories with harder decisions to make. If you want to make a difference, you can visit here and vote for your favorites.
Enjoy!