As one of the biggest titles of Bethesda, Fallout 4 will have a GotY Edition soon. And the news were revealed recently on the official Bethesda webpage. Along with many in-game features, this edition will come with many other stuff like a Vault-Tech Perks poster and a Pip-Boy.
A New Edition Which Will Make You Feel "S.P.E.C.I.A.L"
This edition will, naturally, include all the DLCs of Fallout 4. That means you will get the six major titles as follows: Nuka World, Vault-Tec Workshop, Contraptions Workshop, Far Harbor, Wasteland Workshop and Automatron. There has been many different opinions regarding all the Fallout 4 content so far. Many people didn't like some of them whereas others praised them. So It will be your own decision.
Another good news about this GotY edition is that it will give you a chance to get a real life Pip-Boy. If you chose to buy that version of course as there will be others. However, for people who live outside of US, we've got some bad news. This offer will be available only in the States. For others, they will have to be satisfied without a Pip-Boy. Who needs a Pip-Boy? Am I right? Right?… *Cries silently in a dark corner*
More information can bee sen on this image which was shared on the Bethesda website: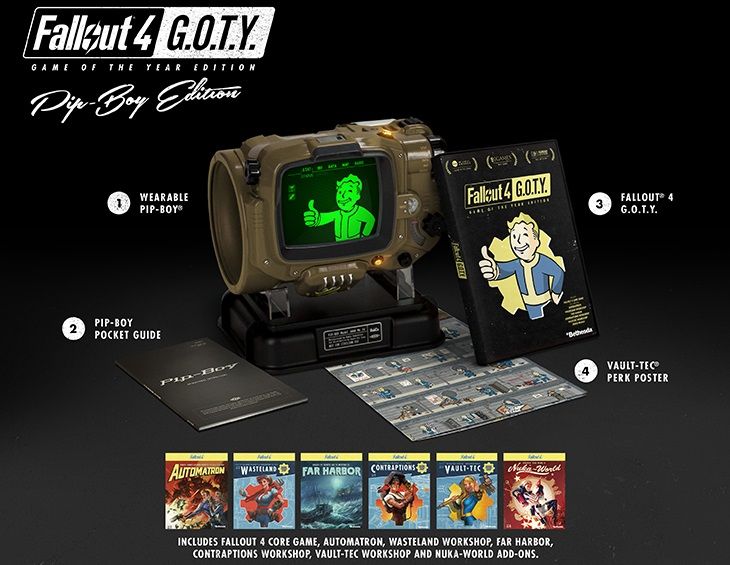 More information about this edition can be found on the official website. And as for the date, it will be released on September 26th. And the prices will range around $99.
So go ahead and cehck out the Bethesda website if you are interested.
And say tuned for more news!