If Hannibal Lecter and H.R. Giger had a baby, and if this baby and Tormentum had another baby, it would be Scorn.
Before everything else, I am highly disturbed by this game. It is just, so intense that every cell in your body screams NO but your eyes say YES and you watch it as something wiggles inside your chest. This game is cursed, this game is nightmare, this game is the 9th circle of hell. This game is the game you have no idea you were waiting for all this time and when you see it, you wonder how you lived so long without it.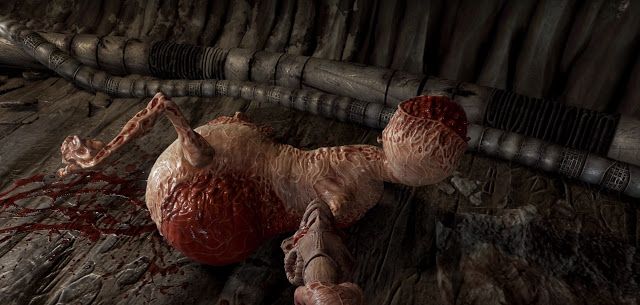 Scorn, oh Scorn, "is an atmospheric first-person horror adventure game set in a nightmarish universe of odd forms and somber tapestry". The main idea behind this game is about being thrown into the world. Every location has its own theme and story and as we move, we will open new areas, have different skill sets, weapons and items.
Scorn will come in two parts and the first part of the game will be out in 2017, hopefully. Two parts and two parts it is. There will be no DLC, expansions or sequels. Scorn is waiting for you on Steam Greenlight. You go click that button and go on with your lives knowing that at least once, you've helped a masterpiece come to life.
Here are the screenshots shared for Scorn: