If I would make a guess, most of you were highly influenced by Life is Strange. We became a part of Max's life, we discovered her powers and we decided everything together. It is now a common thought that Life is Strange is one of the best interactive games around because our choices really matter –and by doing that, the game put a heavy burden on our shoulders.
Because all of that and so many other reasons, Life is Strange developers' new project stands out among the others. This project is called Vampyr.

I must warn you: Know that this is not a vampire story which we frequently come across in pop-culture lately. It does not have sparkling vampires or freak babies in it. Vampyr is an action- RPG game played from third-person view. London was hit by Spanish flu; streets are now filled with bodies and conquered by disease. Hell broke loose.
Through this mayhem, you rise as Vampyr. A vampire doctor.
Vampyr, which sets the mood and universe of this new license, which promises to offer a unique, deeply immersive role-playing experience steeped in vampire mythology. Vampyr is set in early 20th century Britain as the country is gripped by the lethal Spanish flu and the streets of London are crippled by disease, violence and fear. In a disorganized and ghostly city, those foolish, desperate, or unlucky enough to walk the streets lay prey to Britain's most elusive predators: the vampires. Emerging from the chaos, a tormented figure awakens. You are Jonathan E. Reid, a high-ranking military surgeon transformed into a vampire upon his return home from the frontline.
You must decide whether you feed on people or befriend them. You will take missions from the citizens but you will always be remembered that you need blood. Your lust for blood will make you decide whether you feed on citizens or spare them. Spare them for later! This is the charming part of the game: you have an effect on people. You can basicly seduce them, change their daily habbits, and even make them end up alone in a dark street. Killing them will be final, they will not respawn again in the game.
On the other hand; when you choose to feed on people, blood will keep you alive. And by choosing blood, you can unlock new vampiric powers. Your enemies will be citizens, vampires and other supernatural creatures while your combat varies are melee, ranged shooting and supernatural vampire powers.
Vampyr's story is based on the 1918 London Spanish flu pandemic and developers conducted research on the real-life events surrounding this period. The paintings of Phil Hale also effected the game's art style.
Now the developers has shared some dark screenshots of the game which you can view below: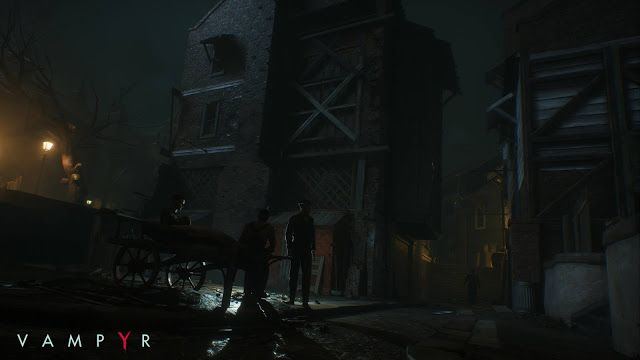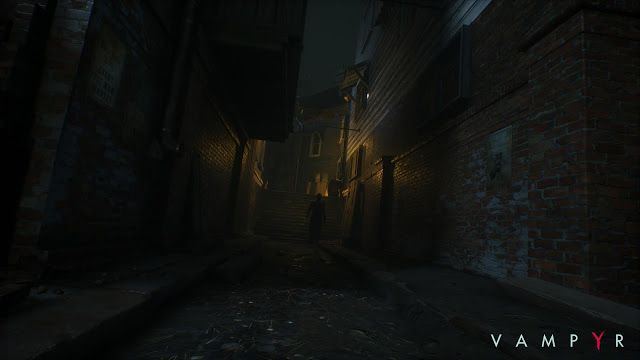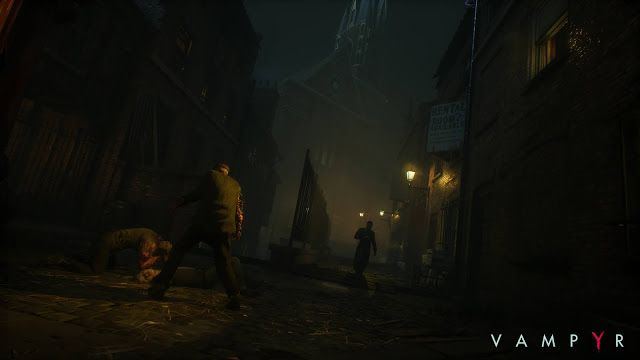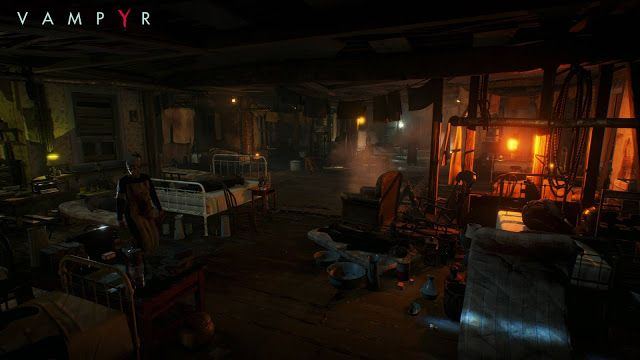 Vampyr will hit PC, PlayStation 4 and Xbox One in 2017.