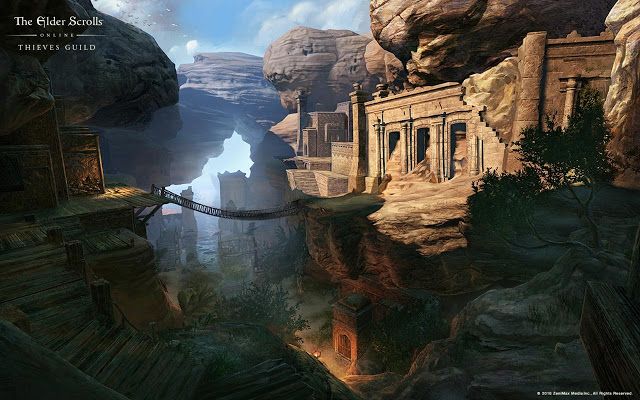 Well, I call that good news.
We won't be waiting too long for The Elder Scrolls Online Thieves Guild DLC! The DLC will be avaliable on March 23 on Xbox One, PlayStation 4 and Pc.
According to Bethesda, there will be a Thieves Guild DLC collector's bundle avaliable to purchase. This bundle will include the Thieves Guild DLC pack, the Hammerfell Camel mount, five Crown Experince Scrolls and the Kindlespit Dragon Frog. This bundle can be purchased from the Crown Store for 4,000 crowns.
Like we used to do, in this DLC we will be helping the guild and returning it to it's former glory. We will be stealing, pickpocketing and looting. ARRRHH THIS WILL BE SO MUCH FUN. Okay, also there will be a new quest type but we already mastered it: Heist.
Of course, if you have the Thieves Guild DLC, you will have a new skill line. By following the Thieves Guild questline, you will be progressing your skills and using this special skill line. Also, there will be new ways to test your bravery like 12-Player Trail.
You can watch the video below for more detailed information:
.embed-container { position: relative; padding-bottom: 56.25%; height: 0; overflow: hidden; max-width: 100%; } .embed-container iframe, .embed-container object, .embed-container embed { position: absolute; top: 0; left: 0; width: 100%; height: 100%; }