Frogwares' upcoming game Sherlock Holmes: The Devil's Daughter is really making it hard to wait for us. Lastly, we shared with you the news about Sherlock and Watson being younger in upcoming game.
Sherlock Holmes: The Devil's Daughter's gameplay will be similar to the previous game, Sherlock Holmes: Crimes and Punishments. We will be using deductive method, trying to solve the case with some help from our friend, Creepy Watson. Both seems more charming than before, admit it.
The new Sherlock Holmes game will feature a semi-open world. You will be free to wander throughout some areas in London. To move to other districts, you need to use a carriage like before, or you can travel by horse. Like this.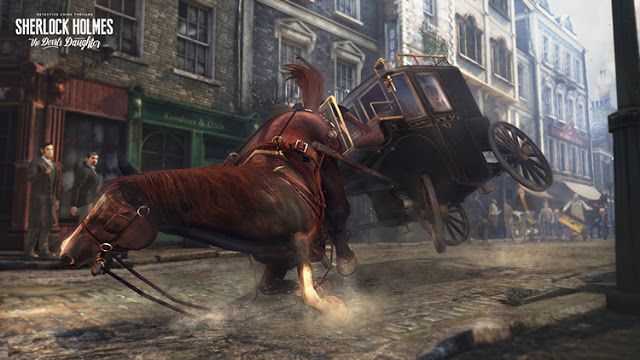 Other than that, you will be able to play as other characters, not only Sherlock. You will be assisting Sherlock while he is solving the case.
You can watch the gameplay video below.
New Sherlock Holmes looks like Jon Hamm. Nice move Frogwares, nice move.
Sherlock Holmes: The Devil's Daughter will hit PC, PlayStation 4 and Xbox One on June 10.