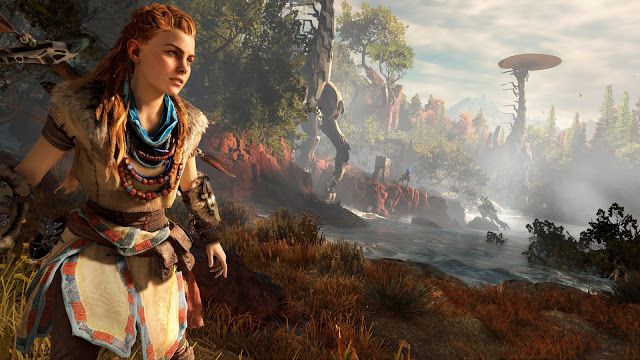 A new gameplay demo has been shared by Sony at E3 2016 and it is gorgeous.
Last year, we had a chance to take a glimpse on Sony's upcoming PlayStation 4 game, Horizon: Zero Dawn. This is surely one of the best looking games I've ever seen and clearly is the most anticipated game which is coming for PS4.
Horizon: Zero Dawn is an upcoming third-person, action role-playing game in development by Guerilla Games. We will be controlling Aloy, a hunter and archer, as she progresses through a post-apocalyptic land ruled by mechanized creatures, such as robotic dinosaurs. The game is set 1,000 years in a future in which humanity has long abandoned Earth due to the world being dominated by robotic creatures.


With the shared video, we now have a chance to get a better look at Aloy's weapons. Also, we get to see the immerse world of the game, the story, the map and exploration.
Our weapons will be various; we can use a bow, a knife, a slingshot and other primitive weapons but the best part is that we can craft explosive charges and wield weapons charged with electricity. Aloy has lots of abilities like crafting equipments and even ride robots.Here, enjoy it:
Horizon: Zero Dawn will hit PlayStation 4 on February 28, 2017.